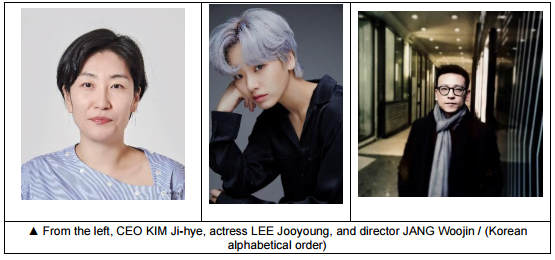 • Directors ZHANG Lu, SHIN Su-won, JEONG Jae-eun, JANG Woojin, and actors JANG Hyunsung and LEE Jooyoung were selected from diverse age groups and occupations with a balanced gender ratio
• Leading filmmakers and film experts from the Korean film industry are gathering in one place in Jeonju for their jury screenings!

The 21st JEONJU International Film Festival (JEONJU IFF, Festival Director LEE Joondong) confirmed and announced 11 jury members for its competition sections and 3 jury members for the NETPAC (awarded by the Network for the Promotion of Asian Cinema) Award, consisting of directors, actors, critics, and producers.

First, JEONJU IFF announced the 11 jury members to select excellent works from the competition sections. These sections include International Competition and Korean Competition which program first and second feature films, as well as the Korean Competition for Shorts.


The jury members of International Competition are film critic KIM Kyoungwook who is active in film festivals and film academia and is currently a film critic for Le Monde diplomatique, director SHIN Su-won who won the Korean Competition Grand Prize at the 11th JEONJU IFF with Passerby #3 (2010) and continues to explore her artistic world ever since with Madonna (2015) and Glass Garden (2017), REDPETER FILMS' CEO LEE Dongha who produced a wide spectrum of films including LEE Chang-dong's Poetry (2010) and YEON Sang-ho's TRAIN TO BUSAN (2016), director ZHANG Lu who is recognized as a leading auteur in Korea with his 12 feature films from Tang Poetry (2004) to Fukuoka (2019), and actor JANG Hyunsung who showed off his strong presence in Hwayi: A Monster Boy (2013) and Steel Rain (2017).


As for the 11 shining films to screen in the Korean Competition section, Darcy PAQUET who is a key English subtitle translator for Korean films like The Handmaiden (2016), The Age of Shadows (2016), and Parasite (2019), editor CHANG Yeong-yeop of top Korean film magazine Cine 21, and director JEONG Jae-eun who is working across various genres through her films like Take Care of My Cat (2001), Butterfly Sleep (2017), and an architecture documentary trilogy, will be in charge.


In addition, for the Korean Competition for Shorts where 25 titles made the finals, Co-CEO KIM Ji-hye of ATO which is a production company leading the Korean independent film industry with films like YOON Ga-eun's The World of Us (2015) and The House of Us (2019), actress LEE Jooyoung who became a new face in the Korean indie world through Jane (2016) and Maggie (2018), and director JANG Woojin who won the Korean Competition Grand Prize at the 15th JEONJU IFF with A Fresh Start (2014) and received international recognition with Autumn, Autumn (2016) and Winter's Night (2018) were appointed as the juries.

Starting on May 28, the three competition sections will be unveiled for the first time through jury screenings where the jury members of the relevant section, the directors, actors, and staff will be able to watch together. In addition, a number of titles that have agreed to online screenings will be made available to the public from May 28 until June 6. From June 9 to September 20, extended screenings will be held at JEONJU Cine Complex, where you will be able to watch this year´s competition films in person at the theater.


Meanwhile, 3 jury members will participate in selecting the winner of the NETPAC Award by choosing an excellent title among the Asian films screened in non-competition. Film critic KIM Sohee, Professor KIM Yi-seok of the Department of Film Studies at Dongeui University, and programmer Jinna LEE of Ulju Mountain Film Festival will be in charge.

Festival Director LEE Joondong said, "This year, our aim was to invite people of various ages, occupational groups, and experiences to become this year's jury members of the competition sections and the NETPAC Award. I hope many will pay attention to the balanced gender ratio as well." He added, "I believe they will be able to select wonderful works that are timely with the current film industry trends by using their fair perspectives."


The jury members of the 21st JEONJU IFF

1. International Competition

KIM Kyoungwook
She was in charge of project programming and scenario consulting at a film production company, and engaged in film festivals as a programmer. Also she writes film criticism and delivers film-related lectures at college. She also published nonfiction books including The Fantasy of Blockbuster, Narcissism of Korean Cinema (2002),YU HYUNMOK (2008), The Bad World Film Sociology (2012) and What Korean Cinema Sees (2016). Recently, she is publishing serial cinema reviews in Kim Kyungwook´s Cinema Critique in the Korean edition of Le Monde Diplomatique.

SHIN Su-won
Born in 1967. She gained international attention for her first feature film Passerby #3 (2010), won Grand Prize at Korean Competition of JEONJU IFF. Her short film Circle Line (2012) won the Canal+ Prize at Critics' Week of the Cannes Film Festival. Her second feature, Pluto (2013), received a Special Mention in the Generation Plus at Berlin International Film Festival. Her third feature, Madonna (2015) was screened in Uncertain Regard at Cannes. Glass Garden (2017) was screened in Opening Film at the Busan International Film Festival.

LEE Dongha
He participated as a producer in a number of films, including Korean-French co-produced work, Traveler (2009), Poetry (2010) which won the Best Screenplay at the Cannes Film Festival, also Hwai: A Child Who Swallowed Monsters (2013), and Men and Women (2015), etc. TRAIN TO BUSAN (2016), which was produced by REDPETER FILMS, a film production company he established in 2014, has achieved great success in domestic box office and overseas markets. He has produced Psychokinesis (2017), Another Child (2018), and Birthdays (2018), and is now set to release the Peninsular (2020), which tells the story of 4 years after the TRAIN TO BUSAN.

ZHANG Lu
He made his feature debut with Tang Poetry in 2004. His film Grain in Ear (2005) won the New Currents Award at the Busan International Film Festival. Desert Dream (2007), which was invited to compete at the 57th Berlin International Film Festival, as well as the series Chongqing (2007) and Iri (2008) set in China and Korea respectively have been screened at prominent international film festivals. Dooman River (2009) was also invited to the Generation 14Plus section at the Berlin International Festival. He has directed 12 feature films, including Scenery (2013), Gyeongju (2013), Ode to the Goose (2018), and Fukuoka (2019).

JANG Hyunsung
Born in 1970, he had long been a stage actor after graduating with a theater degree from the Seoul Institute of the Arts. On screen, he has won the hearts of audiences through impassioned performances in Nabi-The Butterfly (2001), Spider Forest (2004), When Spring Comes (2004), Maundy Thursday (2006), Hwayi: A Monster Boy (2013), C'est Si Bon (2015), Steel Rain (2017), and many others. Recently he starred in Kill Me Now, a cinematic adaptation of the play of the same title written by Canadian playwright Brad FRASER.


2. Korean Competition

Darcy PAQUET
An American movie critic, who has lived in Korea for almost 20 years, wears many hats in the Korean film industry: critic, lecturer, author, translator, artistic director and part-time actor. Darcy has translated the subtitles for a wide range of Korean films, including BONG Joonho´s Parasite (2019), PARK Chanwook's The Handmaiden (2016) and KIM Jeewoon's The Age of Shadows (2016). In 2014, he co-launched the Wildflower Film Awards Korea to recognize achievement in Korean independent and low-budget filmmaking.

CHANG Yeong-yeop
Born in 1984.The current editor in chief of Cine21. She majored in English Literature at Ewha Women´s University. She was a regular panel for KBS´s Night´s Movie Music Room, a podcast channel Talk Talk Movie Comments and an interviewer for Olleh TV´s Star Catch. Also, she is a co-author of a book, The Movie People Talking about Movie People. She started as a reporter for Cine21 and she is leading various changes in Cine21.

JEONG Jae-eun
Born in 1969, Seoul. She made her feature debut, Take Care of My Cat (2001) and direct The Man´s Situation (2003) in the omnibus film If You Were Me (2003), and The Aggressives (2005). With a great interest in urban space and the environment, she produced her architectural documentary trilogy: Talking Architects (2012), City: Halls (2013) and Ecology in Concrete (2017). Also, one of her feature films, Butterfly Sleep (2017), was invited to the Gala Presentation Section of the Busan International Film Festival.


3. Korean Competition for Shorts

KIM Ji-hye
She is Co-CEO and producer of ATO, a rising film production company, through which she has been presenting inspiring films specialized for family and coming-of-age stories. The lineup includes YOON Ga-eun´s The World of Us (2015), which swept various film awards including the Korean Film Critics´ Association Award and the Blue Dragon Film Award, SHIN Joon´s Yongsoon (2017) and YOON Ga-eun's second film The House of Us (2019).

LEE jooyoung
Born in 1992. She made her debut in the short film Encounter (2012) and since then, she has performed many roles in various films including The Transfer Student (2015), Jane (2016), and A Quiet Dream (2016). She grabbed a spotlight from media and the public with Maggie (2018), for which she won the Actor & Actress of The Year at the 23rd Busan International Film Festival. With Baseball Girl (2019), in which she made her notable stand as an actress, she won the Rising Star at BIFF Asia Star Awards and the Independent Star at the Seoul Independent Film Festival.

JANG Woojin
Born in 1985. His first feature film, A Fresh Start (2014), won the best prize in the Korean Competition at the 15th JEONJU IFF. His second feature film, Autumn, Autumn (2016), won the Best Director in the Vision Section at the Busan International Film Festival. He directed Winter's Night (2018), one of JEONJU Cinema Projects 2018 and created installation art work installation art work Shot Reverse Shot (2019) which was exhibited at Expanded Plus of the JEONJU IFF last year. His films have been screened in various international film festivals.


3. NETPAC

KIM Sohee
KIM So-hee majored in Korean Language and Literature in college and Film Theory in graduate school. She has published a thesis titled "A Study on the Relationship Between Feminism and Digital Media: Focusing on Self-Portrait Cinema" in 2013. Since receiving the second prize at the Cine21 Film Criticism Awards with a study on David CRONENBERG, she has been working as a film critic. She has served as a preliminary review committee member for Korean Short Competition section at the Busan International Film Festival, Korean Competition section at the DMZ International Documentary Film Festival, and also as a programmer for the New Films section of the Independent Film & Video Makers' Forum.

KIM Yi-seok
Born in 1968, KIM Yi-seok is a professor of Film Studies at Dong-Eui University. He has served as the head of the Busan Independent Film Association and the Busan Film Critics Association, and currently he is the head of Cine Folk, a cinema culture cooperative, and the Cinema and Transmedia Institute at Dong-Eui University. He earned his doctorate with dissertation on Andrei TARKOVSKY, and his published work includes Film and Society (2012, co-authored) and Talking About Busan Through Films (2017).

LEE jinna
She is a programmer at the Ulju Mountain Film Festival. She graduated from Hanyang University with a master's degree in Film Studies and finished a doctorate course at the same university. Before joining UMFF, she has worked at JEONJU IFF, Jecheon International Music & Film Festival since 2005. Later, she has worked as a programmer from DMZ International Documentary Film Festival, Busan International Short Film Festival and International Intangible Heritage Film Festival. Also she has performed jury works at Jokja-NETPAC Asian Film Festival, SAARC Film Festival, Kaohsiung Film Festival, Mar del Plata International Film Festival and Taiwan Golden Horse Film Festival.