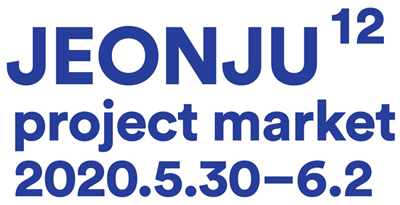 · 7 JEONJU Cinema Fund projects and 5 JEONJU Next Edition projects will attend the pitching event
· 5 projects from the newly introduced domestic documentary production support program, RoughCut Navigating, will participate
The 21st JEONJU International Film Festival (JEONJU IFF, Festival Director LEE Joondong) opened the festival on May 28 with its jury screenings and online screenings as a measure to prevent the spread of COVID-19. Meanwhile, the JEONJU Project Market, which is the festival's networking platform that supports independent film production, opened its doors for the 12th year on May 30.
The 12th JEONJU Project Market will be held from May 30 to June 2 for 4 days at the JEONJU Cine Complex (JEONJU Digital Independent Cinema) in Gosa-dong, Jeonju. This year, there are three different programs prepared. They are JEONJU Cinema Fund which discovers and fosters Korean independent film projects, JEONJU Next Edition 2020 which supports the development of international independent film projects, and RoughCut Navigating, a development support program for independent documentaries, a new addition this year.
First, 7 projects selected for this year´s JEONJU Cinema Fund will make their pitches at the JEONJU Project Market. Out of the 7 projects, there are 4 documentaries and 3 narrative films. They are KIM Jeongkeun's My class (working title), KIM Yoon-zy's Remain, KANGYU Garam's Lucky, apartment (working title), KANG Kyungtae's The protector, HEO Seong's Shaping Trout, PARK Hyuckjee's My Genie, and NAM Arum's Patriot girl. After the pitching event and the final evaluation, selected project will receive the second installment of the planning and development fund. In an effort to support the weakened Korean independent film scene in the age of COVID-19, the JEONJU IFF decided to budget KRW 43 million (up KRW 18 million compared to the previous year) for the second funding pool, which is KRW 13 million more than what was originally budgeted.
JEONJU Next Edition, the program for international projects, selected Lois PATINO's Samsara, Siege LEDESMA's Cat Island, Alan SEGAL's Three detectives: paper, clay, or stone, Eric BAUDELAIRE's A Flower In the Mouth, and Elsa KREMSER and Levin PETER's DREAMING DOGS AND BARKING MEN. These five projects already held their pitching event online. One of these projects will be announced as the winner at the JEONJU Project Market Award Ceremony on June 2, and the production funding will allow the JEONJU Cinema Project 2021 film to get the assistant it needs to meet the audience.
Newly introduced this year, RoughCut Navigating is a part of the "K-DOC CLASS" project co-sponsored by the SJM Foundation, JEONJU IFF, and EBS International Documentary Film Festival. JEONJU IFF and SJM Foundation will select an unfinished Korean documentary project through this program. The winner will receive the guidance of an expert to find their direction in editing in the first editing class called "RoughCut Navigating∞JEONJU Project Market". In the second step called "Completing the First Cut∞EIDF 2020 Documentary INDUSTRY", the winner will finalize the editing with a global storytelling strategy by working with an editor from abroad. The 5 projects that have been selected for RoughCut Navigating are SIM Younghwa's Locking Horns, KIM Saebom's Small Bird and Mr. Pig, SHIN Sangyong's The Head Family's Days, KIM Jung-in's A long way to school and HEO Chulnyung's 206 Unearthed.
JEONJU IFF will announce the final projects of JEONJU Cinema Project 2021 and hold the JEONJU Project Market Award Ceremony on June 2 at 6 PM.