Dardennes' 'Tori And Lokita' opens 2023 Jeonju film festival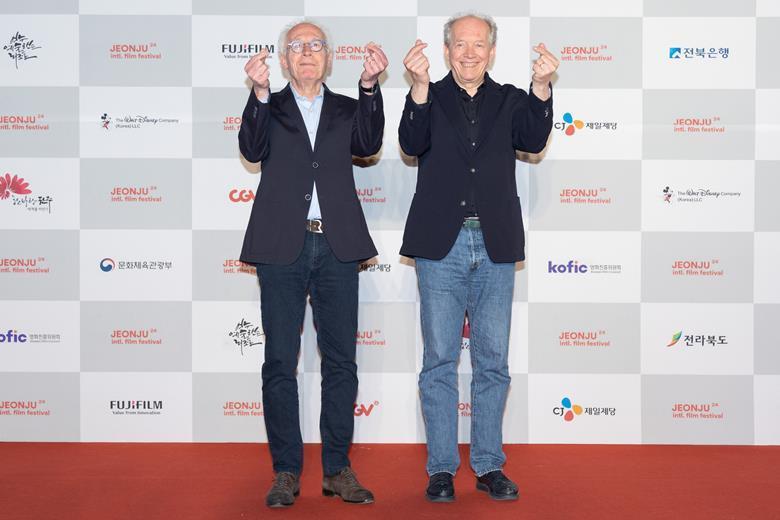 The 24th Jeonju International Film Festival opened tonight (April 27) with stars on the red carpet, a dramatic taekwondo performance onstage, and Jean-Pierre and Luc Dardenne greeting the audience at the Sori Arts Center of Jeollabuk-do before the screening of opening film Tori And Lokita.
"Thank you for welcoming us and for defending cinema in the world," said the Belgian filmmaking duo on their much-anticipated first trip to the country. "Thank you also to the cinema of Korea, because we did not know South Korea except from its cinema and its great cineastes. And so, bravo on this great story of cinema."
Noting they believed all their films have been distributed in South Korea, they went on to thank Jinjin Pictures, the distributor of Tori And Lokita in the country, for helping them communicate with Korean audiences.
Asked to give advice or encouragement to other filmmakers, they said: "Don't try to be famous, to be known. Be honest with what you do and try to start from something that is close to your heart.
"Cinema is sometimes an individual adventure but it is often an adventure of the group. So what's good is to work with friends and friends-of-friends, because it's inside of the group of friends where we find things. That's where you find the truth of a film."
The night started with a red carpet graced by the ceremony's emcees Jin Goo, star of The Witch: Part 2 – The Other One, and Gong Seung-yeon of TV's The First Responders in black tie and evening gown respectively. Further actors in attendance included Park Hae-il of Decision To Leave and Shin Hyun-joon from The Assassin.
Squid Game Emmy award-winner Lee You-mi joined director Han Jay and co-star Lee Soo-yeon of the queer teen romance No Heaven, But Love, which is playing in Korean Competition, in walking down the red carpet. Director Li Jue and stars Tang Zeng, Huang Xiaolei and Gong Hongjia of Yangzi's Confusion, playing in the newly launched Focus: East Asian Films Now section, also took the stroll.
The World Taekwondo demo team's performance at the top of the night drew cheers from the audience with its energetic music and dramatic audiovisual projection behind them as they flew through the air to kick apart multiple wooden boards - somewhat of a departure from ordinary film festival ceremonies and part of new festival co-director Jung Joonho's initiative to make things livelier for audiences.
The festival runs April 27-May 6, screening 247 films from 42 countries with 66 world premieres and seven international premieres.
The awards ceremony will be held May 3 and the closing ceremony May 6 with the world premiere of Korea-Poland co-production Where Would You Like to Go?, directed by Kim Hee-Jung.