'From You': Jeonju Review
Jeonju prizewinner from South Korea explores the anxieties of artistic pursuits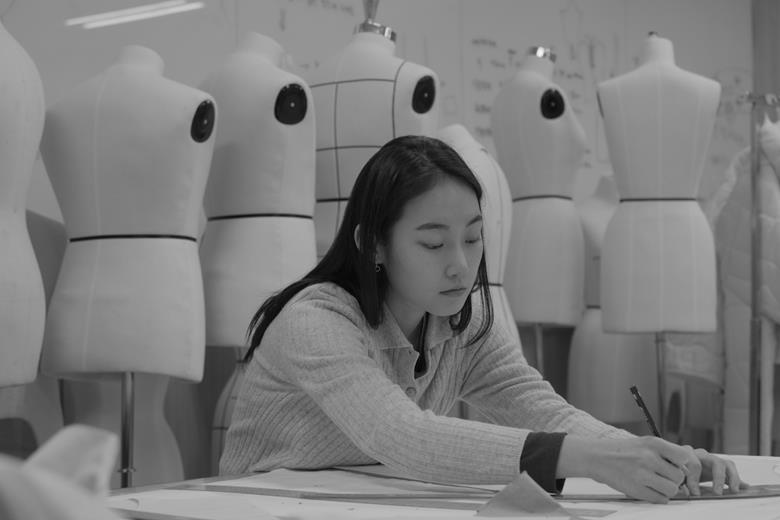 Dir: Shin Dong-min. South Korea. 2023. 102mins
Shin Dong-min made his feature debut with the family portrait Mom's Song (2020) in which a father has resolved to marry a younger woman. His sophomore effort From You is a conceptual extension in which various recollections of this irrevocably damaging decision and its aftermath swirl amongst other coincidences over the course of three narratively distinct chapters. Shot in crisp black-and-white, it courts comparisons with art-house luminary Hong Sangsoo through an emphasis on repetition or slight variations. The surreal fictional universe of Haruki Murakami also seems to be an influence in Shin's casual blurring of the everyday with the uncanny. If it doesn't measure up to those observational masters as a whole, From You certainly evinces enough curious charm to make it a modestly engaging triptych.
From You received its world premiere at the Jeonju International Film Festival where it won the Korean Competition, and looks set for a run of engagements at Asian-themed events. Beyond the festival circuit, this is likely a streaming play which should prove to be a welcome addition to any growing catalogue of offbeat East Asian indies.
The first chapter focuses on fashion design student Min-ju (Kang Min-ju) who is preparing for her graduation exhibition. When her sewing machine breaks down and the college practical room turns out to be locked, thwarted efforts to find a temporary replacement inadvertently prompt Min-ju to reflect on her life as she nears the end of her education. In the second, aspiring actress Seung-ju (Lee Kum-ju) takes time out from preparing for an audition to visit her aunt and uncle in the countryside. Back in Seoul, she auditions for an assistant director but becomes less concerned with her career trajectory than with the wellbeing of her alcoholic mother.
It gets meta in the third chapter with Shin essentially playing himself. The filmmaker and his mother Hye-jeong (Kim Hye-jeong) travel to their rural hometown of Uncheon where they revisit past haunts. They also participate in a Q&A following a screening of one of his films in which Shin cast his mother in a leading role.
It's implied that the first and second chapters are occurring in parallel universes as Min-ju tells one of her friends that she is considering swapping fashion design for acting — the profession that Seung-ju is pursuing. Reverberations abound through conversations (life advice along the lines of 'just do what you like'), family matters involving health and money, and unexplained apparitions that are realised through basic yet effectively otherworldly animation.
Taken individually, there is little in either of the first two chapters that will be particularly fresh to long-time viewers of South Korean indie cinema, and Shin's screenplay doesn't quite find magic in the mundane. Yet their overlapping illustrates common anxieties related to artistic pursuits, while Kang and Lee's understated performances acutely convey how members of a generation that is ostensibly less defined by traditional models are still impacted by problematic family history.
Technical elements are fine, with consistently polished lensing by Lee Jin-wook and jaunty bursts of incidental jazz by Oh Jung-woong that bridge the tangentially related vignettes in a playful manner.
If one puts aside the need to tie everything together, however, then the third chapter is by far the most pleasurable on a stand-alone basis — mainly due to its delightful mother-son rapport. As they drive around Uncheon, Hye-jeong's reactions to the town she hasn't seen for 20 years flit from snooty ("A burger joint and a convenience store, that's a lot of progress") to worried ("It used to be a crowded place, it's weird without people"), while Shin patiently allows her to get over her bewilderment.
The spotlight is on Shin at the subsequent Q&A session. In addition to enabling the director to articulate his creative inspiration, this scene perhaps serves as a prematurely resigned commentary on how his films will be exhibited domestically if he continues down the indie path; an out of the way cinema with a small if sincerely invested audience. Unlike the proceeding chapters, though, the mother is the protagonist here with Kim's naturalistic turn enabling Shin to pull off a disarming closing scene that fuses the quotidian with the cosmic.
Contact: Shin Dong-min, dongmin.new@gmail.com
Producer: Kang Min-ju
Screenplay: Shin Dong-min
Editing: Shin Dong-min
Cinematography: Lee Jin-wook
Music: Oh Jung-woong
Cast: Kang Min-ju, Lee Kum-ju, Kim Hye-jeong, Shin Dong-min