The Dardenne brothers talk upcoming projects, diversity at Cannes and return to cinemas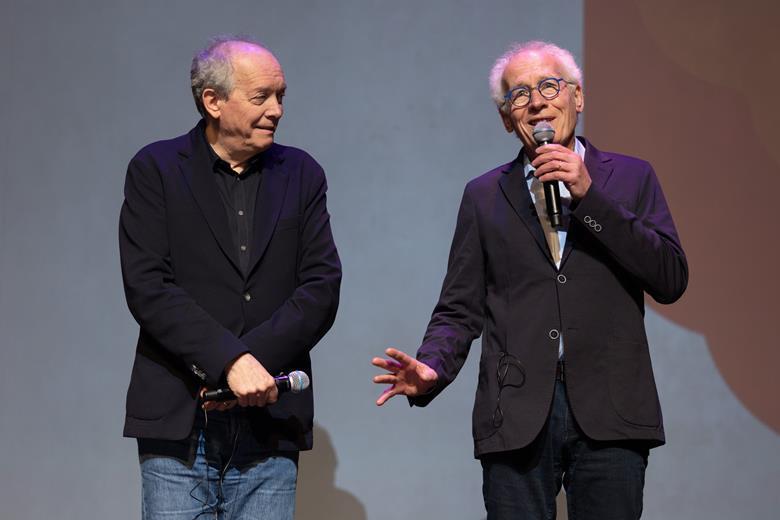 Belgian filmmakers Jean-Pierre and Luc Dardenne are visiting South Korea for the first time, attending the Jeonju International Film Festival where their Cannes-awarded Tori And Lokita opened the event on Thursday (April 27).
After hosting a masterclass in Jeonju, the filmmaking duo will travel to Seoul on Saturday to publicise the film's local release with distributor Jinjin Pictures, having recently promoted the feature in Japan and the US.
Aside from writing and directing their own films, the brothers produce and co-produce for other filmmakers. They spoke to Screen about how they approach such projects, representation at Cannes, possible collaborations with Asia and the return to cinemas.
Screen: What are some of the films you are producing and co-producing at the moment?
Luc (L): We have the last film by Ken Loach [The Old Oak], which will be in Cannes. Because of Brexit, it's difficult for them to access funds so we put two technicians on the project.
Jean-Pierre (JP): And we co-produced the Maiwenn [Jeanne Du Barry] starring Johnny Depp, which will be the opening film at Cannes. Her producer Pascal Caucheteux, who is a friend, proposed it and we are financiers and co-producers. We also have three young Belgian directors' films we are producing as main producer including Laura Wandele, who made Playground which was in Cannes two years ago, Christophe Hermant and Matthieu Volpe. We are also co-producing the next movie of Romanian-Belgian director Theodora Ana Mihai, whose La Civil we co-produced, which was her first film and was in Cannes.
What can you share about Michel Hazanavicius' Holocaust-themed The Most Precious Of Cargoes, which you are co-producing?
L: It takes time to do animation. It's been a good three years [since] we saw the pictures he created and decided to work with him. Certain voices have been recorded already, notably the voice of [French actor Jean-Louis] Trintignant, who is the narrator and magnificent. We are hoping it will be completed for 2024. The pictures and script are very beautiful so we are very hopeful.
Gerard Depardieu is one of one main voice actors in the animation. Are you concerned about recent accusations of sexual harassment against him?
JP: At the contractual level, we are minority co-producers and the director and main producer have final cut in Europe and elsewhere. So it's up to Hazanavicius and his producer. For us, to question it is a bit… [it wouldn't make a difference what we think]. But your question is a pertinent one.
How do you decide in which projects to get involved?
JP: A lot of them are directors and producers who are our friends and propose projects. Because we love their work, we are happy to be able to help them make their films and find funds in Belgium.
Is your participation mostly financial or do you also get involved creatively?
L: In Europe, cinema is connected to public services – that is to say, state aide like the CNC or the Belgian national centre of cinema – and tax shelters for companies because we create jobs so it's a win-win situation. When it comes to co-producing, we can help with finding funds like this. Also, we work with several teams so we have staff and crew. We put people in cameras, sound, post-production. It depends on the film. But we don't help on the artistic side.
What about when you produce?
L: When we produce the films of young Belgian directors, there is an artistic investment. We read the script, ask for revisions and look at the direction and post-production.
JP: When we are the main producer, we look for foreign co-producers that we can work with and we are the architects of the film's financing. We have a producer at our company that is in charge of that, Delphine Tomson.
You've been to Cannes many times with much success (including winning the Palme d'Or in 1999 for Rosetta and in 2005 for The Child). How has the festival evolved since your first visit and what do you think of criticism concerning representation in the Official Selection?
JP: They have the most interesting films in the world, whether it's the Official Selection or other sections. The proof comes later in the year. Wherever you go, the most successful films are those that were selected by Cannes.
L: I think there is a lot of unnecessary criticism. I believe they are watching all the films submitted before selection and there are as many films throughout the selection from, say, women or from Africa or from minorities as ever and there is no intent to exclude them.
JP: It's worth wondering if this is a sort of witch hunt. Criticism is good, but it needs to be done in good faith.
The Cannes Marché has launched an initiative called Spotlight Asia to encourage collaborations between Europe and Asia. Would you ever be interested in working with Asia?
L: Why not? Perhaps Lee Chang-dong [director of 2018 Cannes Competition title Burning] will ask us to do something. [Laughs]. If he wants to come shoot in Europe, of course, or if young filmmakers want to come from Korea or other parts of Asia. Of course, there has to be Belgian participation – crew or hotels, food, some scenes shot in Belgium – so there are jobs and income made so we can maximize the benefit of the tax shelter or other support.
JP: There must be [co-production] agreements between the countries. But we would be happy to be able to [work together].
Are you meeting with Lee Chang-dong while in Korea?
JP: Perhaps. It was part of the programme [that he would moderate the masterclass but was changed to Yoon Ga-eun as he could not attend]. So not in Jeonju but perhaps in Seoul.
What are your thoughts on people returning to cinemas after the closures of the past few years?
L: Belgium is coming back well. We are partners in a public cinema - Cinema Palace in Brussels - and audiences are coming back to similar levels to before the pandemic – maybe minus 5% or 6% compared to before. Notably, we had the all-time best March last month. It seems there are other cinemas that do less than 30% so it's still difficult but returning to normal little by little.
Do you prefer people to see your films on the big screen?
L (in English): Big screen!
JP: Big screen is better. Today, we can't watch films only on big screens and it's good there are other options. But primarily, it's important big screens continue to exist.
L: It is important that teachers come to see films and then bring their students. They make documents to prove it's for educational purposes and this brings in 25,000 students a year [with state aid]. The role of the state is not to fight for new technology and digital capital – Netflix and the platforms – but to educate the youth. In the same way you teach books and build libraries, the government should teach students about going to the cinema and about films and their history.
Screen: Is there anything you can say about your next project?
L: I hope we will be shooting next year, at the end of the year or autumn, to hopefully have a film completed for 2025.
This interview was conducted in English, French and Korean with the directors primarily speaking French through a Korean-French interpreter and has been translated to English with some editing.